GAC-100 desiccant is a composite of a special kind of clay mineral and calcium chloride.The clay mineral, made from a naturally occurring deposits through precise treatments, has a large water capacity with a unique three dimensional chain structure and a special needle fiber crystal mould .in the high humidity GAC-100 can work effectively as long as 40 days and remains solid state while collecting 100% moisture of its own dry weight .

GAC-100 performs best at room temperatures between 30-50 ℃ and at high humidity between 60to90% RH and will drop the relative humidity in ocean-going containers to aroun 40% RH.

GAC-100 is packaged in double cover : the vacuum bag (or barrier bag) and the cover stock (spunbonded polyethylene material or TYVEK) which maintains an acceptable adsorption rate. 2 or 10 or 100 packs of Gac-100 desiccants are put into a big vacuum bag (0.8mm nylong PE) for transportation and storage.

GAC-100 has two types including granular shape and powder shape.
Chemical Composition
Clay Myineral
Calcium Chloride
item
index
item
index
sio2
54.78%
CaCl2
min95%
al2o3
8.82%
NaCl+KCL+MgCl2
max2.0%
MgO
11.28%
Alkalinity as Ca(oH)2
max0.3%
CaO
3.52%
Insoluble in water
max0.2
Na2O+k2o
0.054%
PH in 10%CaCL2 SOLUTION@20

℃

7-9
Fe2o3
2.88%
~
~
Physical Characteristics
item
GAC-100G
GAC-100P
Shape
Granula
powder
size
1-5MM(95%)
100-180mesh
color
Grey and white
light brown
PH
7-9
7-9
Bulk density
0.5-15g/ml
0.5-0.735g/ml
Moisture capacity
80-100% dry weight
Moisture capacity
MAX 5%
ADSORPTION PLOT OF GAC-100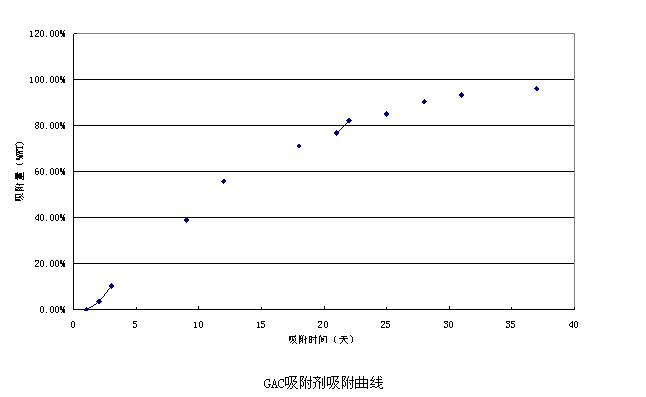 Package
.spunbonded polyethylene material /15g/20g/50g/100g/200g/500g/1000g/2000g
.Tyvek/15g/20g/50g/100g/500g/1000g/2000g